COMING SOON!!! Three-book self-help In the Game book series is scheduled to be released Spring 2018.
~ ~ ~ ~ ~ ~ ~ ~ ~ ~ ~ ~ ~ ~ ~ ~ ~ ~
Spiraling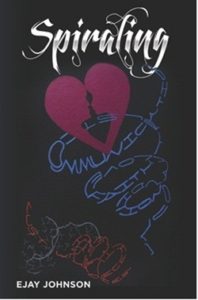 Quick Pitch:
Spiraling is a fictional novel about reconciliation after cheating, laced with a twisted story of true friendship (with no male bashing).
Synopsis:
Spiraling vividly explores the lives of four friends who fight to win back the hearts of their significant others after they get caught cheating.
Harley, Avery, Simone, and Jade, also known as the foursome, are best friends who are in different stages of their intimate relationships. Harley is dating, Lorenzo, the man of her dreams. Avery is happily married to Laina; and they have two children. Simone is married to Bryson, a man who adores her. Jade is engaged to the love of her life, Isaiah. Unfortunately, love was not enough to keep the four friends faithful. They indulge in unscrupulous behavior. They get caught cheating. One by one, their lives start spiraling out of control. While fighting to win back their significant others, Harley and her friends discover more than they had expected.
Author:
EJay Johnson
~ ~ ~ ~ ~ ~ ~ ~ ~ ~ ~ ~ ~ ~ ~ ~ ~ ~
Main Characters and Spiraling Excerpts
The Foursome (mid to late thirties)…
Harley: Entrepreneur, owns an art gallery
Avery: Attorney at Law
Simone: Marketing Director
Jade: Executive Admin
The Spot… Their place of solace, convivial gatherings, and where they over indulge in adult fun.
Conversation after Avery confesses his adultery to Harley, Simone, and Jade:
Jade reached over and nudged Simone. "Why are you so quiet?"
Simone tapped her glass with her fingernails. "I was just listening to Ave and trying to figure out why I'm cheating on Bryson."
"What?!" Harley and Jade shouted out in shock.
"Wait a minute! Why didn't I get that kind of response?"
"Cheating is expected of men," Harley answered without hesitation.
The foursome at The Spot after they get caught cheating:
"I'm scared," confessed Simone.
"You and I are in the same situation." Avery glanced at Simone. "Both of our marriages could end in divorce."
"I didn't even get a chance to get married. My man left me. It's all my fault." Jade shook her head. "Isaiah was a good one too."
"If the three of you get another chance, give it everything you've got. Of course, it might cost you. I thought Lorenzo and I would talk, and he'd take me back. I was wrong."
"I'll bow down and kiss Isaiah's feet if he gives me another chance."
"With everything that has happened to us, one thing is for sure." Harley summed it up, "Karma is a bitch! We should have known better."